Our Story
We created Flexipadel in 2020 when faced with the need to install our padel court without a building permit and without a permanent concrete foundation. Before Flexipadel, we had a long history of building terraces with ceramic tiles. We saw the possibility to repurpose our patented terrace frame system to create a strong base that could withstand glass padel walls, storms and intense padel games. We built many prototypes in our workshop before finding a design that satisfied the most passionate padel players. Further designs enabled us to create a system that is quick to install, and ready for use with all major padel court providers.
"A real surprise, Flexipadel was good to play on.
The court was more flexible compared to concrete courts, which made it very comfortable for the feet. The bounces were also normal, which is a very important thing (most important)!
I would buy a field for myself, which is always a sign of a good field!"
Tero Vuorinen Smash Kotka
Our Learnings
At first, Flexipadel was developed with a single purpose: building a padel court in situations where a conventional concrete installation was impossible. Over time we've discovered there are advantages to Flexipadel, even in cases where a conventional court is an option.

We quickly started to receive enquiries from individuals who were keen padel players, but reluctant to build a 200m2 concrete foundation in their backyard because there was no guarantee that their padel fever would last forever. A court that players can get rid of (or move to their next house!) is very welcome.

For those leasing a property, there is an advantage to having a temporary installation that can be moved at the end of a lease, instead of demolishing or losing the asset when vacating the property. For leasing companies, it's appealing to have an asset that can be resold in case there is a change in their relationship with the operator.

When first building the prototypes, our biggest worry was about the bounce of the ball. If that wasn't right, nothing else would matter. Luckily, the bounce is perfect and has passed the test of champion padel players. To our surprise, many players also began to comment that the surface was easier on their knees, thanks to slight deflections in the metal frame, giving the same soft feel as the most premium padel, tennis and athletics surfaces.

The sustainable value of Flexipadel also came to us as a happy side effect. A portable installation by nature offers advantages over permanent court construction. We doubled down on this by carefully selecting recyclable components for every part of Flexipadel, and ensured our ceramic tiles are LEED certified.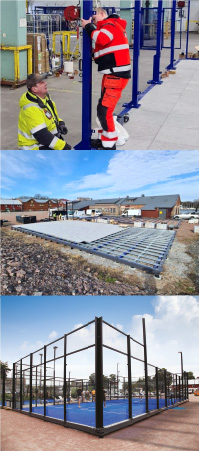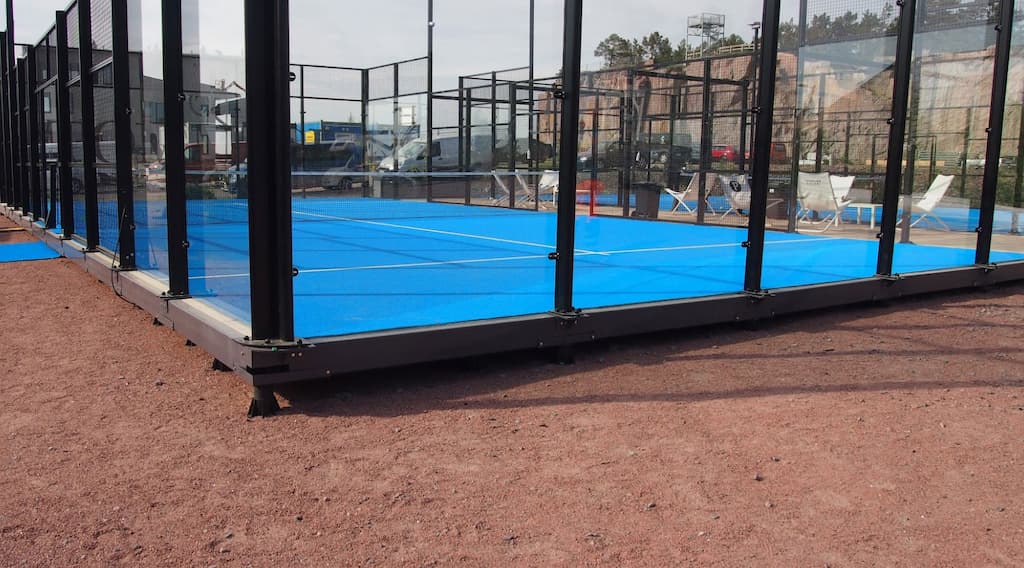 First installations
The first commercial installation of Flexipadel was installed in the beautiful summer city of Hanko, Finland. A harbour city known for its old villas, rough seas and Finland's biggest outdoor tennis centre, this was a perfect location to test Flexipadel against demanding weather and players alike.